Obama scores a 5 point bump from yesterday to regain a sizable lead and hit the 48% mark for the first time since his overseas trip.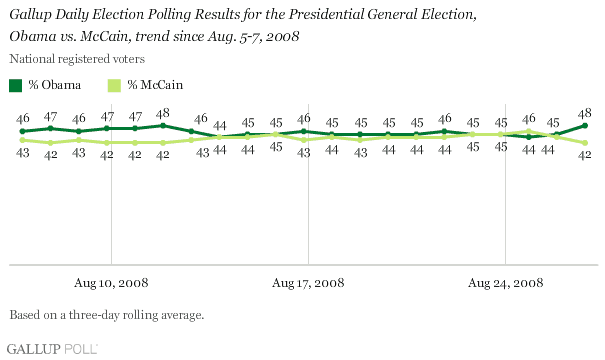 And, as Gallup notes, these numbers don't take into account Clinton and Biden's speeches…

The latest three-day Gallup Poll Daily tracking average (Aug. 25-27) is directly coincident with the first three days of the Democratic National Convention in Denver, and is no doubt beginning to reflect the typical convention "bounce" that Gallup has observed in most party conventions in recent decades.

There is a lag of sorts involved in the daily tracking; interviewing is conducted in most parts of the country before that evening's high-focus speeches have taken place. Thus, the current three-day average would reflect any impact of Monday night's speech by Michelle Obama, and Tuesday night's speech by Hillary Clinton, but would not completely reflect Wednesday night's lineup of speakers, such as John Kerry, former President Bill Clinton, and vice presidential nominee Joe Biden, nor the appearance on stage at the end of the evening by Barack Obama himself.
I am genuinely surprised that Obama has received this much of a bounce from the first couple days of the convention. Still, I guess this is why they do these things, eh?
More tomorrow…