A big drop today of 3 points, as evidence of a McCain bounce is surfacing in Gallup and Rasmussen's numbers.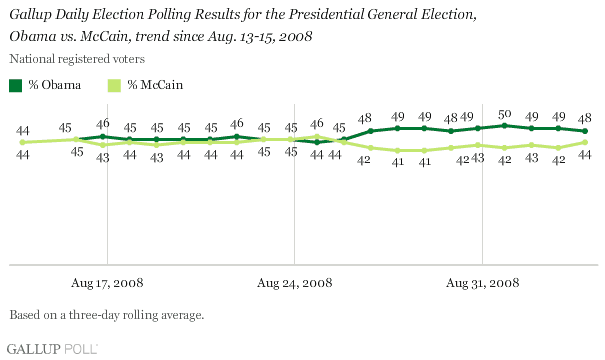 Support for Obama since just before the Democratic National Convention kicked off on Aug. 25 has ranged from 44% to 50%, while McCain's support has ranged from 41% to 46%. Whereas the race was initially tied at 45%, Obama pulled into an eight-point lead at several points over the course of his convention. It now appears the Republican National Convention may be helping McCain to recoup some of his losses, though with Obama's current four-point lead, the entire convention period to this point has still been a net plus for Obama.
Will McCain be on top on Monday? Because that will be the true test.
We shall see…