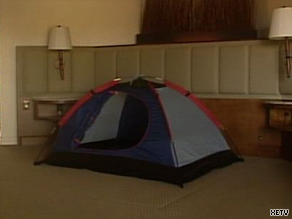 Here's an interesting gambit from an hard up resort.
The Rancho Bernardo Inn, a San Diego luxury resort, is offering rooms for $19 a night. But there's a catch — you have to sleep in a tent and bring your own toilet paper.
The promotion runs for 2 weeks. The idea is to get "heads in beds", as they say in the business. Once there, the resort hopes guests will pay to use other amenities like the spa, golf course and restaurants.
Call me a hippie but if I'm sleeping in a tent I want a fire … and a lake and some hiking trails.
And call me a yuppie but if I'm playing golf and having pedicures … I'd like a bed.
That's just me, though. I bet a lot of families will use it as an inexpensive getaway – swim in the pools all day with the kids and bring flashlights and sleeping bags for the evenings.
With a little luck some of those people will like it so much they'll come back and pay full price.