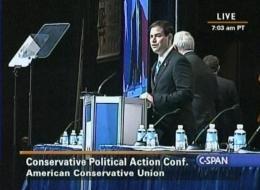 I love the smell of hypocrisy in the morning…

The Tea Party's choice in the Florida Republican primary, Marco Rubio, began his address to a crowd of conservative conventioneers by taking a shot at President Obama for reading from a teleprompter. He did it while standing in front of two easily visible teleprompters.

It was unclear whether the devices were placed there for him or for other speakers at the Conservative Political Action Committee conference, or CPAC, at which he was a keynote speaker. A HuffPost reporter, however, watched his speech from the front row and Rubio could clearly be seen looking intently and repeatedly at the teleprompters. He also had a stack of papers with him at the lectern and flipped through them as the speech progressed, perhaps unwilling to take any chance he would flub the swipe at Obama.
Nonetheless, he supposedly killed.
Here are some choice cuts of Rubio's speech…
Personally, I think Rubio offers a really intellectually dishonest speech there. Democrats don't want to abandon the free enterprise system. And what does he mean by "changing" American as opposed to "fixing" America? The great thing about democracies is their ability to change when things are broken. And folks, if you don't think things were broken, well, I've got some beachfront property I'd like to sell you in Kansas.
But I suppose this gets back to my core problems with conservatism. It really doesn't seem to have evolved since Goldwater and Buckley. If anything, they're becoming more entrenched and out of touch with what really drives our economic engine. Say what you will about Dems, but if you ask nearly any liberal politician what they think of our place in the world as a superpower or a global economic force, nobody is looking to lose and many are just as concerned about the deficit as your average Tea Partier. But what I'm hearing from Republicans and Libertarians and Tea Partiers is that they just want to return to unchecked Friedmanism. Well, it didn't work and even Greenspan admitted that.
Regardless, keep your eye on Rubio as he could probably be the bridge between the Tea Party and the GOP that Republican politicos desperately want…and need.