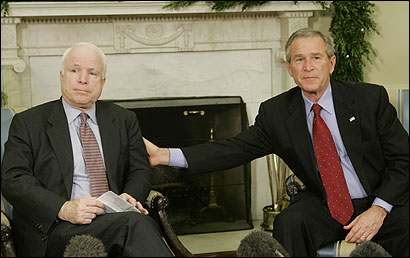 McCain's Torture Fight Against The Right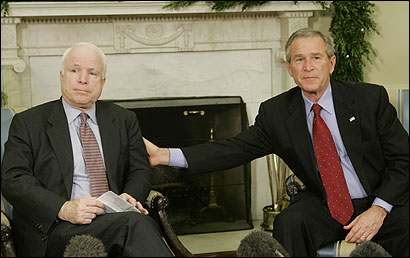 McCain is hearing it from the Republican base over the torture amendment. They want torture. He doesn't.
After months of orchestrated peace, the battle with Mr. Bush over the administration's effort to reinterpret the Geneva Conventions has put Mr. McCain back into a familiar position: bucking the White House and at odds again with some conservatives, who had already been wary of his ideological views.

The dispute is shaping up as an early chapter in a shift of influence in the Republican Party away from Mr. Bush as he approaches the final two years of his administration, and toward its presidential nominee of 2008. And it is spotlighting divisions in the party as prospective presidential candidates jockey for support from the conservative wing.
And one of the 2008 Republican presidential hopefuls disagress with McCain:
One of them, Governor Mitt Romney of Massachusetts, said in an interview that he disagreed with Mr. McCain, and offered a forceful endorsement of Mr. Bush.

"I am foursquare behind the president on this,� Mr. Romney said. "I believe that we should do everything possible to support those people at the front line who are responsible for enforcing the war on terrorism.�
Will this be a big issue in the 2008 election? Well, Bill Kristol thinks so, and the first test will be in the upcoming Fall elections.
What do you think?
UPDATE:
Another article about this story from the Washington Post, which says essentially the same thing but with different words.
I know that isn't much an endorsement to read it, but take a look nonetheless.