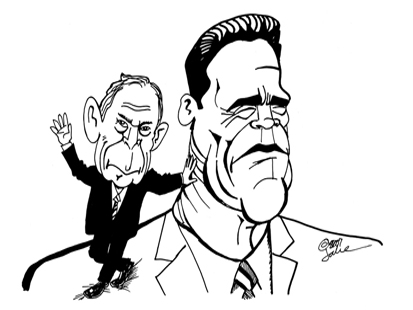 Oh, it's on.
With all his talk yesterday about this country being in serious trouble and now him basically giving the finger to both major political parties, he's seriously considering a run for the White House…and don't let him convince you otherwise.
New York City Mayor Michael Bloomberg is changing his party affiliation from "Republican" to "unaffiliated", a move certain to fuel talk that he is preparing for an independent run for president in 2008.

"Although my plans for the future haven't changed, I believe this brings my affiliation into alignment with how I have led and will continue to lead our City," Bloomberg said in a statement released by his office late this afternoon.
Yeah, okay Mike. Wink, wink, nudge, nudge, say no more.
People, this guy is a billionaire. Do you think he got that way by telling everybody his plans before he launched them? If you answered yes, then go sit in political timeout.
The Wash Post agrees…
Poll after poll shows that the American voting public believes politics in Washington is broken and needs an outside hand to fix it. What better candidate than a successful businessman with a history of bipartisan accomplishments in the biggest city in the United States?
This is what I've been saying quite a bit here, and now some pieces of the 2008 puzzle are starting to fall into place. My guess is that Hagel is going to see this as an opportunity to become independent too. Don't know if that'll happen, but if Chuck jumps the GOP's sinking ship, expect that as a pretty clear sign that he and Bloomberg are hatching a plan for 1600 Pennsylvania Ave.
And from the chatter in the left and right blogosphere, you can tell this terrifies them both because they absolutely NO idea which party he'd pull votes from. The answer, of course, is both because he's pretty much a true independent who believes in social freedoms but fiscal conservatism.
And here's a bit of wild speculation for you, and an explanation for me posting that cartoon…
But here at the USC conference, there was considerable discussion among press and pundits about the possibility that though foreign born, Schwarzenegger could still be eligible to be a vice presidential candidate, raising the potential for a Bloomberg-Schwarzenegger independent ticket.

The governor broke into a huge grin when we asked him about buzz that would put him in the No. 2 spot.

"I leave it to you to spread the buzz," he told us, laughing.
And independent ticket that could carry California and New York?
More as it develops…
UPDATE:
Here's some video…