Take a look at the 13-point "lead" Hill has opened up on Obama…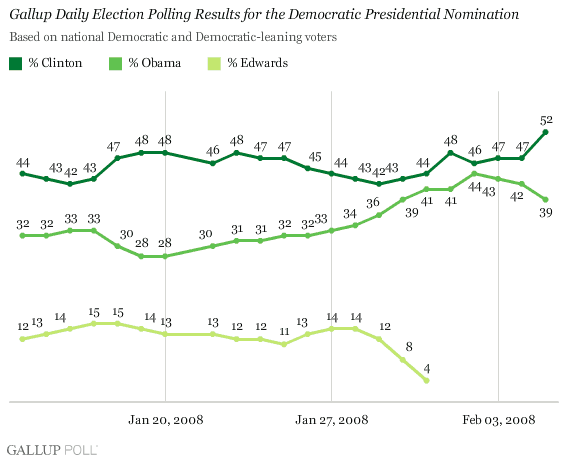 On the other hand, Rasmussen has the spread at 4 percent, with Hillary taking 46% to Barack's 42.
One thing to note about the Gallup poll, it was taken over the weekend and on Monday, so it was off by 12.6%. Why that specific of a number? Because I go back to the popular vote last night.
Clinton: 50.2% (7,347,971)
Obama: 49.8% (7,294,851)
That's as close to a national "poll" as we'll get this primary season and it shows Hillary in the lead by 0.4% or 53,120 votes. Pay attention to this number and the number of pledged delegates, because they're the only two that matter (note: I still think super delegates will fall in line with whoever has the most pledged delegates).
Ultimate takeaway…the polls this season are all over the place and a lot of them (ahem, Zogby…Obama up 13 points in Cali?) can't even be seen as realiable indicators anymore. Although I do think the folks over at Pollster do a good job of aggregating polls and find trends. But taken alone, you or I could guess better than most of these.