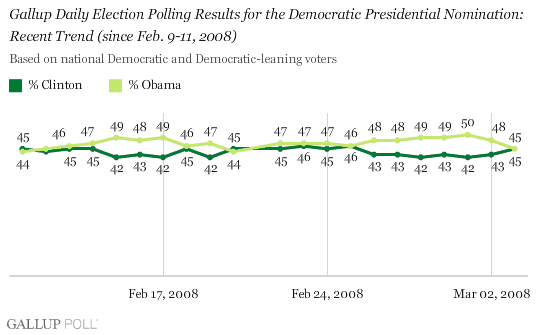 Gallup: Hillary Pulls Even With Obama Nationally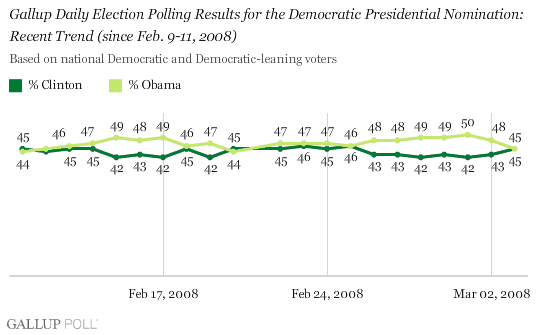 There's no doubt that the Canada story really hurt him. If he survives it, which is likely, it'll be a good lesson for the general election.
A strong night for Clinton last night allowed her to erase the lead Obama had held the previous six days. Obama's lead had been as large as eight percentage points — 50% to 42% in Feb. 28-March 1 polling. Tonight's primaries in four states are critical to the future of the Clinton campaign, as she looks to win a contest for the first time since Super Tuesday.

Obama's campaign has had some difficulties in recent days with questions being raised about his religion, his former friend and fund-raiser Tony Rezko on trial for corruption, and stories that an Obama adviser told Canadian officials that the candidate's recent anti-NAFTA statements were merely political rhetoric.
Honestly, I think the Rezko stuff is a non issue and it's only coming back because he's going on trial. That story has been picked through and nothing has been found, but leave it to the chattering class to say it'll raise questions about Obama while not informing the electorate that this is old news.
More as it develops…