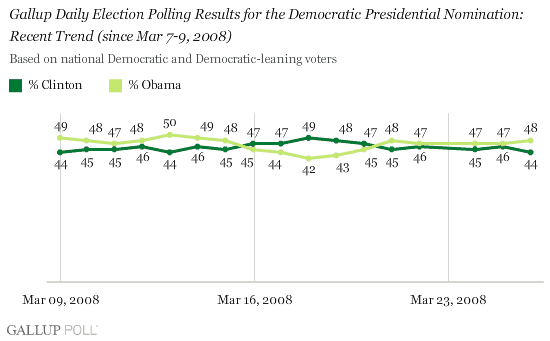 Polls Show Obama Moving Past Wright Controversy
For all of you who thought yesterday's WSJ poll was wrong, here are two more polls to support the trend.
First, Pew Research:
The videos of Rev. Jeremiah Wright's controversial sermons and Barack Obama's subsequent speech on race and politics have attracted more public attention than any events thus far in the 2008 presidential campaign. A majority of the public (51%) said they heard "a lot" about the videos, and an even larger percentage (54%) said they heard a lot about Obama's speech, according to the weekly News Interest Index.

Most voters aware of the sermons say they were personally offended by Wright's comments, and a sizable minority (35%) says that their opinion of Obama has grown less favorable because of Wright's statements.

However, the Wright controversy does not appear to have undermined support for Obama's candidacy. The latest nationwide survey by the Pew Research Center for the People & the Press, conducted March 19-22 among 1,503 adults, finds that Obama maintains a 49% to 39% advantage over Hillary Clinton for the Democratic nomination, which is virtually unchanged from than the 49% to 40% lead he held among Democrats in late February. Obama and Clinton continue to enjoy slight advantages over John McCain in general election matchups among all registered voters.
Then, the rolling Gallup poll today shows Obama starting to pull away.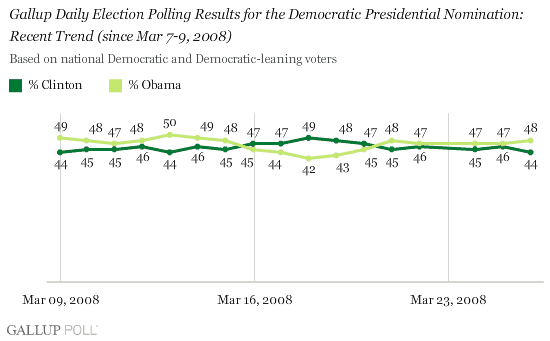 The reason this could be significant is there has been no movement from this poll in the past four days.
More as it develops…