Big news today from the rolling poll…
Obama's current 8-point advantage ties his largest lead of the Gallup Poll Daily tracking program, along with a 50% to 42% showing in Feb. 28-March 1 polling. Obama clearly has weathered the Wright storm, while the dark clouds have shifted to Clinton over whether she has exaggerated her foreign policy credentials. This week she has had to defend her repeated claim that she came under sniper fire while visiting Bosnia as first lady, which news video clearly disputed.

Many Democrats are concerned that the ongoing nomination campaign — which has grown increasingly contentious in recent weeks — will hurt the party in the general election. Right now, the races remain close, but Republican John McCain has an edge over both Clinton and Obama in registered voters' general election preferences. In the new Gallup Poll Daily tracking update, McCain has a statistically significant 4-point lead over Clinton (48% to 44%) and a smaller 2-point advantage over Obama (46% to 44%).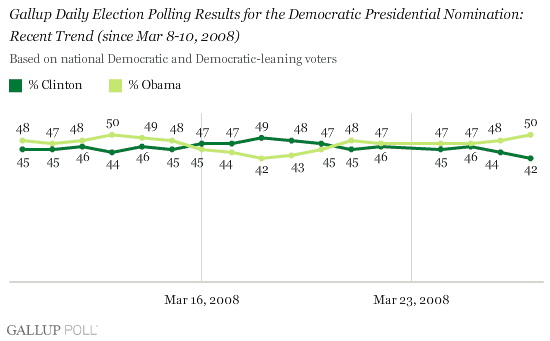 Meanwhile, in Rasmussen land, Obama is trending up as well…
It's Obama 46% Clinton 44%. While the "lead" is not statistically significant, it is the first time Obama has had any advantage over Clinton in a week. The broader trend shows that, for the past two weeks, Obama's support has been within two percentage points of 45% every day. Clinton's support has been within two percentage points of 44% every day
More as it develops…