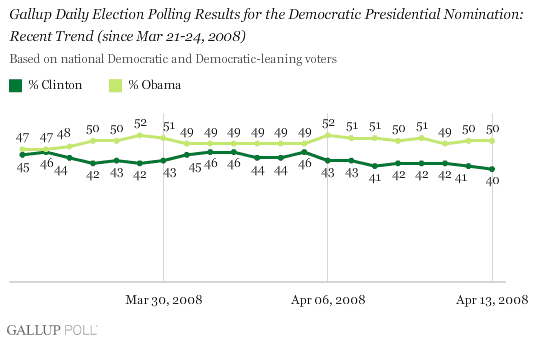 Gallup: Obama Maintains National Lead
His bitter comments may not help him in PA, but it appears that Obama's lead has grown over the weekend when the controversy was going full steam.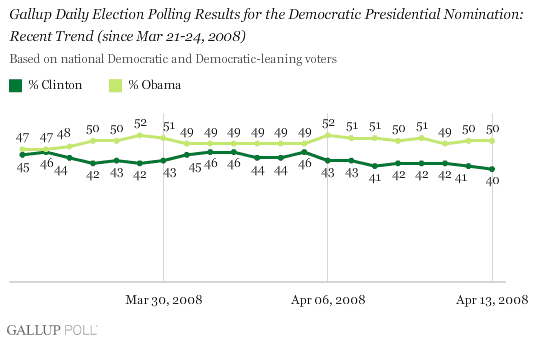 There's a significant trend here among registered Democrats, and my guess is they want this contest to end sooner rather than later. But it's not up to them, and if Pennsylvania voters decide to give Hill a big win, the game changes.
Still, one has to wonder…can this guy weather nearly anything? Are we seeing another teflon candidate?
That 10-point lead matches Obama's best of the campaign, and even as the controversy has dominated the political airwaves, Obama's support remained strong in tracking interviews conducted on Saturday and Sunday. It is likely Clinton and Republican John McCain will continue to remind voters of the remarks, and the possibility remains that it could affect voters in the coming days, but so far they seem unaffected by the controversy.

Obama has now held a significant lead over Clinton in Democratic voters' nomination preferences for the last eight days, averaging roughly an 8-point lead, compared with the current 10-point spread. During this time, 50% of Democratic voters have supported him on average, matching the latest figure for interviewing conducted April 11-13.
More as it develops…