Polls: Obama Ahead By 7 Nationally
First, Gallup shows he has dipped below 50% for the first time in 5 days (49/42), but he still maintains more than a statistically significant lead…for the 11th day in a row.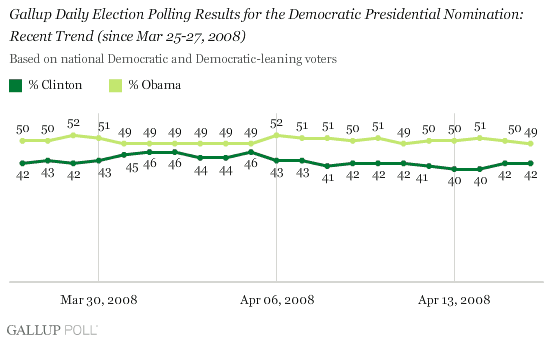 Then, Rasmussen has almost the exact same numbers (48/41), showing a pretty steady "national lead" trend for the Illinois senator…
In the race for the Democratic Presidential Nomination, Obama leads Clinton nationally 48% to 41%.

Obama leads by sixteen points among men while the two candidates are essentially even among women. In Pennsylvania, Clinton leads by nine. Rasmussen Markets data gives Obama an 82.0 % chance of winning the Democratic nomination.
And yes, the latest from Rasmussen shows a 9 point lead for Hill in Pennsylvania, showing that her lead has closed to single digits in yet another poll.
More as it develops…