Looks like the debate dip is over, but what if he loses Pennsylvania by more than single digits?
After all, he's not predicting a win…
"I'm predicting it's going to be close and that we are going to do a lot better than people expect," he says.

Clinton began the Pennsylvania primary with a lead of more than 16 percentage points in the RealClearPolitics polling average; her lead now stands around 5 points.
Here's the Gallup graph and explanation…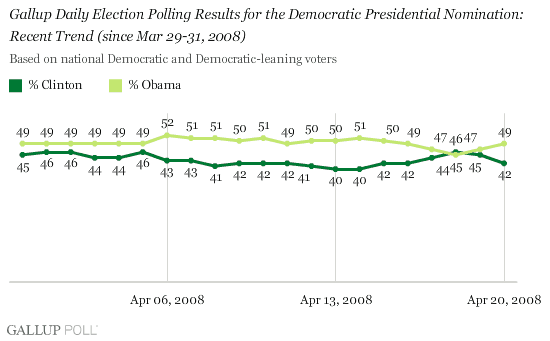 Today's results, from Gallup Poll Daily tracking conducted April 18-20, show Obama doing quite well in the last two days of polling (on Saturday and Sunday), suggesting the latest difficulties troubling his campaign — largely stemming from the April 16 Democratic debate in Philadelphia and the ensuing media coverage– are subsiding.

Gallup Poll Daily trends suggest Clinton may have received a short-term boost in her standing after the Philadelphia debate, but that she has been unable to sustain those gains. Now the focus shifts to Tuesday's Pennsylvania primary that Clinton is describing as an important test of the candidates' momentum and ability to win the fall election. Any impact of the Pennsylvania election results on the sentiments of Democrats across the country will begin to be evident in Gallup Poll Daily tracking reports later this week.
Still, if Obama loses by more than expected in Pennsylvania, I can't help but think that it'll hurt him nationally.