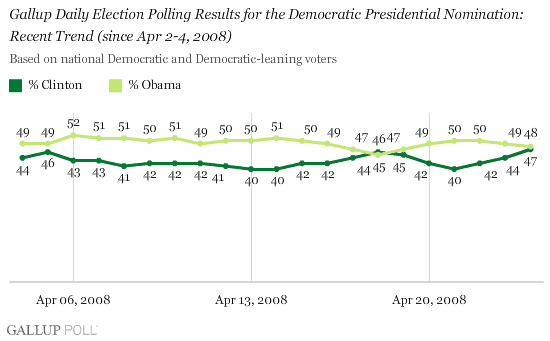 Gallup: Obama And Clinton Tied
Has the momentum shifted? Because now Obama only holds a 1 point lead on Hillary.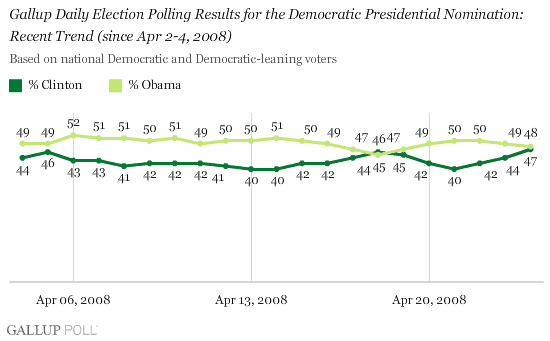 Obama's lead dwindled steadily all week, falling from a high of 10 percentage points in interviewing conducted in the three days just prior to the Pennsylvania primary. However, the percentage of Democrats supporting Obama has changed little (declining from 50% in April 19-21 polling to 48% today). Most of Clinton's increased support (from 40% to 47%) has come from previously undecided voters.

Both Clinton and Obama have experienced surges in support for their candidacies at various times since the start of the primary season — several of them linked with primary wins and other high profile events — only to see the race revert back to a near tie position. The last time Clinton moved into a significant lead over Obama was over a month ago, in mid-March, and that was only briefly. It remains to be seen whether Clinton will pull ahead of Obama in the next few days, or if she is able to sustain her current competitive positioning through and beyond the next round of primaries on May 6.
That's an interesting note that undecideds are finally starting to make up their mind, and they're siding with Hill. Now we just 5% of voters are left undecided. How will those voters break are anybody's guess because if they haven't made up their mind at this point, it's unlikely they will at all.
Again, I do think this one is going to the convention.