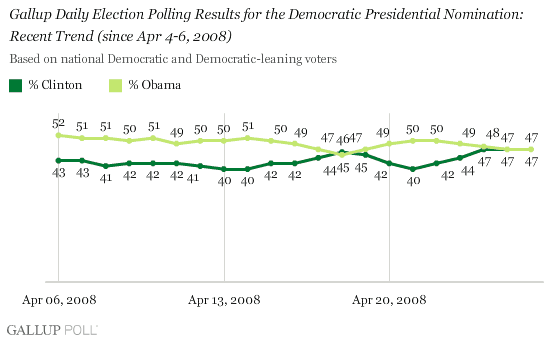 Gallup: Obama And Clinton Still Tied
Two days in a row. At the very least the Clinton's effort to make it seem like she can win is working.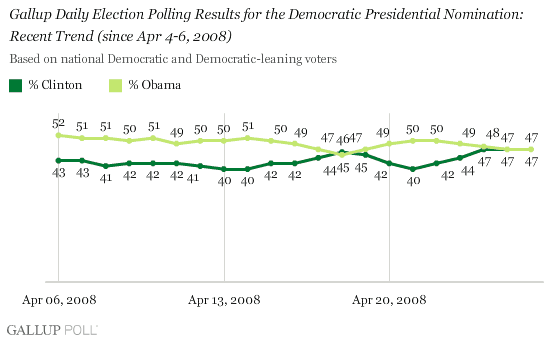 These results, based on April 24-26 polling, are the second report in which all interviews have been conducted after Clinton's Tuesday Pennsylvania primary win, and suggest that Democratic voters are — for the moment at least — divided right down the middle as to which candidate they most want to represent their party in November's general election. Obama led the race for a number of days prior to Pennsylvania.

Clinton has now erased his lead, but so far has not been able to translate her primary win — and the subsequent media coverage of her "never say die" campaigning — into a lead of her own. The close nature of the race at this point gives even more importance to the outcome of the North Carolina and Indiana primaries on May 6.
So what happens if she wins Indiana and he wins North Carolina? Well, her chances would be even bleaker. This isn't "Rah-Rah Obama!!!" stuff. This is just simple math and it has been since after Texas and Ohio. In order to catch up in pledged delegates and popular vote she has to win big (15% and higher) in every single contest from here on out.
So I just want to make sure this is clear to everybody because if you're buying this line that she can win just by pulling out single digit victories in states she was projected to win anyway, you're fooling yourself. She needs upsets in North Carolina and Oregon, and she needs them to be big.
More as it develops…