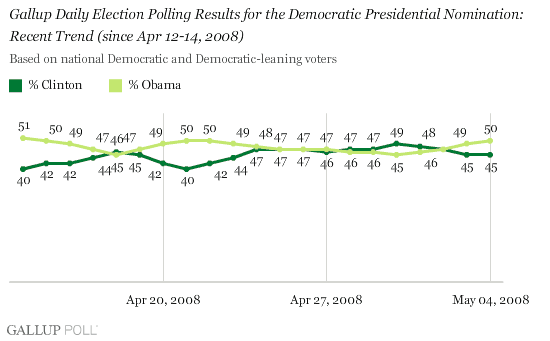 He improves 1 point since yesterday, and they're technically tied when the margin of error is taken into account. Still, this has to point to some sort of small rebound from the latest Wright controversy.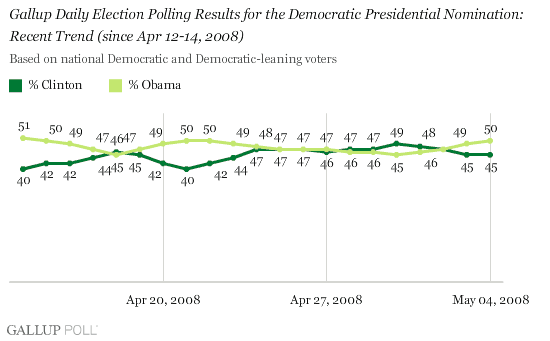 Although there have been variations in the gap between Clinton and Obama in recent weeks (for example, Clinton led Obama by four points at one time last week), the two have been statistically tied in national Democratic preferences continuously since Gallup's April 21-23 interviewing — spanning 12 Gallup Poll Daily tracking reports. This is the longest stretch the two have been tied since tracking began in January — beating an 11-day streak seen at the start of March.

Obama won 2,264 votes in Guam's Democratic caucuses on Saturday, May 3, to Clinton's 2,257 votes. It is unclear from Gallup's Sunday tracking results whether Obama's razor-thin 7-vote victory there boosted his candidacy among Democrats nationally. The upcoming Democratic primaries in North Carolina and Indiana on Tuesday are poised to be much more important events in shaping national Democratic perceptions of whether Clinton or Obama should lead the party's ticket for president this fall.
More tomorrow…