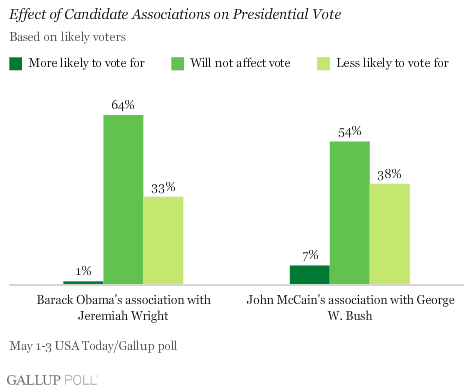 Bush Hurts McCain More Than Wright Hurts Obama?
That's what a recent Gallup poll suggests.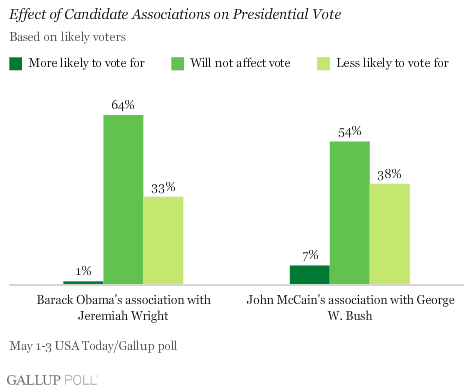 The nature of the relationships is clearly different — Wright was Obama's former pastor, while Bush and McCain were rivals for the 2000 presidential nomination but Bush has endorsed McCain in the 2008 election. But both present problems for the candidates — Wright for his incendiary sermons and controversial remarks that have raised questions about Obama's beliefs and his personal judgment, and Bush for his low approval ratings that hurt the GOP in the 2006 elections and may well do so again in 2008.
And here's an interesting factoid about Bill Clinton and how he's become more caustic on the campaign trail…
The poll also asked how Bill Clinton might affect voters' propensity to vote for Hillary Clinton. While the 33% who say it makes them less likely to cast a ballot for Hillary for president rivals the percentages found for the McCain-Bush and Obama-Wright associations, the 18% who say it makes them more likely to vote for Hillary means Bill also helps to attract support for his wife. Just under half say the Clintons' association would not affect their vote.
More as it develops…