No significant movement over the past few days. He dipped a bit, but has since recovered, and my guess is we won't see much difference until after the last primary is over.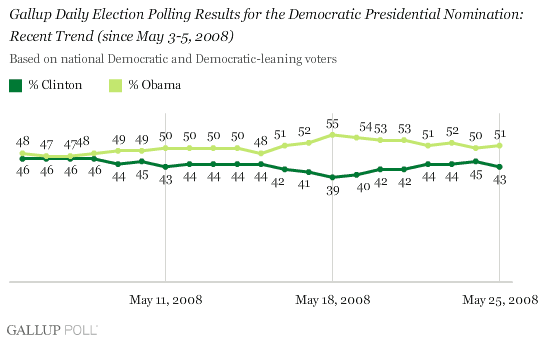 After a string of five days with a double-digit lead over Clinton last week, Obama has held slightly smaller advantages over Clinton — ranging from five to eight points — in the last four releases based on Gallup Poll Daily tracking. Since May 1-3 polling, Obama has held at least a small advantage over Clinton, and has held a statistically significant lead most of this month.
One thing I will say is that the Clintons are playing a very dangerous game right now with their whole electability argument. And since it's pretty clear by now that Hillary's chances of winning this thing the "right" way are gone, they'd do well to stop talking about Obama being highly vulnerable to defeat in the fall.
Well, that is unless they're fine with the idea that people will think they want him to be defeated. Then they should keep on talking. But these memes they keep pushing, which are completely divorced from reality, only serve to embolden their supporters to NOT vote for Obama.
More tomorrow…